Sea Change Arts
Great Yarmouth - England

SeaChange Arts is an independent arts development charity established in 1996 and based in Great Yarmouth, Norfolk. Over the last six years SeaChange has moved from a modest programme of local arts development activities to a clear specialism on Circus and Street Arts, developed a wide range of national and international partnerships, delivered at least 15 projects with European funding and partners, and gained a reputation for high artistic and community engagement values. Much of this work is now showcased at the annual Out There International Festival in September, the region's largest free festival of Circus and Street Arts which regularly attracts audiences in excess of 60,000 people and is produced by our organisation.
Throughout the year, we work with communities, schools, producers, artists, festivals, and local and international partners on a number of projects, sometimes intimate, sometimes immense - but always inspirational. We also act as the arts development and promotion agency for Great Yarmouth Borough Council.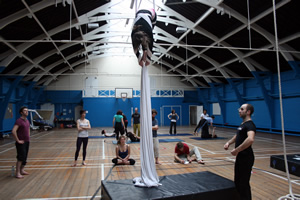 Our focus on Circus and Street Arts grows naturally from this seaside town's rich performance heritage and provides us with an accessible medium for all kinds of projects, interventions and activities that help us:
Strengthen relations with internationally diverse communities
Support artists and performers to develop work of the highest caliber
Develop collaborative, ambitious partnerships to deliver new events and productions
Build a creative workforce to support the development of Circus and Street Arts
Engage and support creative collaboration between local communities and professional artists
These continue to be exciting and transformational times for the organisation. Our new 9,000sqft creation space in an historic Drill Hal in Great Yarmouth opens this year, and will be used for artistic training and residencies and become SeaChange Arts new base. The Drill Hall, in combination with the adjacent and newly restored St George's Arts Centre (opening in summer 2012 as an indoor and outdoor venue for Circus and Street Arts) and greater use of the Hippodrome Circus (the UK's only remaining purpose-built Circus building and a venue of world significance) for contemporary Circus performance, provides a unique infrastructure for the Circus and Street Arts sector in the UK, and a platform for our ambitious plans for artistic development and creation. Sea Change will be working closely with the team at St George's, providing artistic leadership of the professional and community programmes.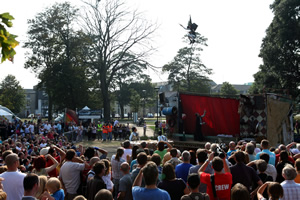 SeaChange Arts' programme of work until 2015 prioritises Circus and Street Arts, European and international collaboration, and development of infrastructure to support artistic activity. Across all three areas we will:
deliver artistic excellence and world-class art
support artists and nurture talent
build audiences, engagement and participation
Seachange Arts is the lead organization for the Open Out Arts Leonardo training programme and we are very excited to see the results of the partnership and how this work may influence our future CPD and vocational training programmes.
Documents
Hosting Activity Record - SeaChange
Sending record - SeaChangeArts